Attorneys from Goldman Babboni Fernandez & Walsh Attend The Manasota Trial Lawyers Board CLE Seminar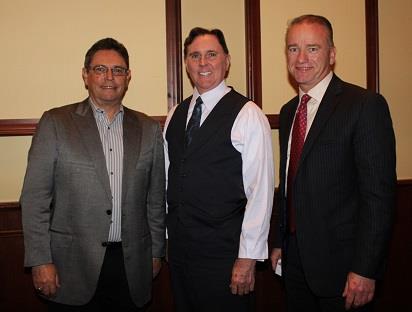 Several members of civil trial law firm Goldman Babboni Fernandez & Walsh took part in the Manasota Trial Lawyers Board Dinner and CLE Seminar.

Held at the Polo Grill in Lakewood Ranch Florida, the event featured a CLE accredited seminar that focused on accident reconstruction entitled "How to Effectively Work With Accident Reconstruction to Better Present Your Clients' Case." Given by guest speakers Rick Swope of Swope econstruction Corporation and Brian Pfeifer of BEC Consulting, the seminar informed the audience on how utilize the latest methods of accident reconstruction to better represent clients in personal injury lawsuits.

The event drew attorneys and legal professionals from law firms around west central and southwest Florida, including several managing partners from Goldman Babboni Fernandez & Walsh. In attendance were Manasota Trial Lawyers Board founder Bernard F. Walsh of the Bradenton office of Goldman Babboni Fernandez & Walsh, founding partner of Goldman Babboni Fernandez & Walsh, and Stephan Fernandez from the Sarasota Office of Goldman Babboni Fernandez & Walsh.

Attendees of the seminar earned 2 CLE (continuing legal education) credits. Florida attorneys are required by the Florida Bar Association to earn 33 CLE credits over three years to remain a member in good standing.

In addition to the seminar an open forum discussion panel took place allowing for attendees to delve deeper into to topic of using accident reconstruction methods and technology during personal injury cases.

After the seminar, the Manasota Trial Lawyers Board hosted a diner and social mixer in an effort to promote networking and collaboration between attorneys.

Attorney David Goldman had this to say about the event, "While Florida has a variety of legal industry organizations such as the Florida Justice Association, the Manasota Trial Lawyers, helps to give more voice and influence from the local Sarasota-Bradenton area."

Attorney Stephen Fernandez commented, "With so many aspects of personal injury law important, events like the MTLB's seminar or the FJA's workhorse seminar give attorneys the opportunity to enhance knowledge on a wide variety of topics and be exposed to the latest tools and techniques that would be more difficult otherwise. It's heartening to see so many attorneys take advantage of the event and become better prepared to represent their clients."

Attorney Bernard Walsh added, "As a founder of the MTLB I am happy to see my fellow partners participate. It's great to see so many of the area's attorneys come together in a cooperative fashion to help strengthen the Florida justice system."

About Goldman Babboni Fernandez & Walsh:
The lawyers of Goldman, Babboni, Fernandez & Walsh have more than 100 years of combined Florida legal experience in personal injury, wrongful death and other negligence cases.

Our partners have handled more than 10,000 non-fatal and fatal personal injury cases, where death or brain, head, neck, back, spinal cord, shoulder and knee injuries have resulted from car, truck, motorcycle or boat accidents.

Goldman Babboni Fernandez & Walsh
308 Cocoanut Ave, Sarasota FL, 34236
Local: 941-954-4000.

More information:www.JusticePays.com.